The 'big' change
We are looking forward to flying the A380. New planes are normally the kickoff for new IFE systems and technology. Currently, we supply airlines with content for Panasonic eX2, eTes Rockwell Collins and dTes Rockwell Collins.
We are still working with the good old re-usable VHS and Hi-8 tapes and also video or data DVD's. In the future we will work with re-usable USB sticks.
See more >
Sicherheit über alles
iTV ist ein technischer Dienstleister für daily content wie Nachrichten und Sport. Dieser 24/7 Prozess bietet keinen Spielraum für Ausfälle. Daher werden alle technischen Prozesse doppelt ausgeführt. Content empfangen wir digital über Satellit wie auch via File Transfer also Wetter und Technik unabhängig.
So garantieren wir absolute Kontinuität und Qualität unserer Dienstleistungen. Tag für Tag 100%.
Mehr sehen >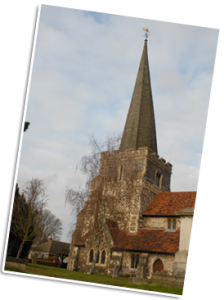 Stanwell's History
Stanwell's 12th century St Mary's church contains monuments to Lord and Lady Knyvett. It has Norman and Gothic architectural elements. In 1838, an unknown species of rose was found in a local garden and given the name of Stanwell Perpetual. More info..
Aircraft Interiors EXPO
iTV will be present at the Aircraft Interiors EXPO in Hamburg from 09-11 April 2013 and the Apex 2013 EXPO in Anaheim (CA) in September.
The next exhibition we will attend is the Aircraft Interiors EXPO 2013. It will be held from 09-11 April 2013 in the Hamburg Convention Center, Germany. If you want to talk about improving the quality, speed and pricing of your current daily content, contact us now.
On the picture; from left to right: Jack Cooper, Mark Janssen, Scott Ammerlaan and Thorsten Wick.
DVB-S2, SDI, SDI-HD, MPEG-4…..
All this technology , all these Abbreviations… but we take care. iTV is able to receive all kinds of standard or high-definition signals that come via satellite. We divide these signals in FTA (Free to Air) or signals with Conditional Access, for both we have the proper Broadcast quality solution.
Commercials can still be delivered on various digital and analog tape formats. Iain Anstee (picture) is one of our engineers that take care.
The Team
From the left to the right: Mark Janssen (Managing Director and owner of iTV), Jack Cooper (Video-operator/editor), Mahmut Aptul (Instructor) and Alex Kruszelnicki (Video-operator/editor). Not on this picture: Barnabas Lawson and Iain Anstee.
Our white office
The white building in the heart of Stanwell, is the bouncing technical heart of our operations. Our own tree and football field produces enough oxygen for a seamless operation.
Hatton Cross is the nearest tube station, take bus 203 towards Staines and get off at "The Happy Landing" to visit us.
Innovation and inspiration
The  technical infrastructure is built to carry out the difficult and precise task to produce daily content 24/7.
The complete process; Downlinking, Editing, Encoding and Duplication can be handled by one engineer. A lot of innovations were implemented when we built the subsidiary in July 2010. It is still a source of inspiration for the other offices.
54,250 Balls at 30,000 feet
Passengers of British Airways could enjoy daily highlights of the 127th Wimbledon Championships. The 12 minute programme was edited and attached to the daily World News program, after that it was duplicated to Hi-8 and encoded onto USB and DVD-ROM. As always the iTV video-operators made sure that everything worked from day one onwards.
From april 2013 onwards,  weekly updates of the Premier League and Formula 1 will be shown on British Airways flights.
iTV specialists in IFE standards
Since the founding of iTV back in 1990, our goal is to deliver the latest news content within 90 minutes to the aircraft. That was more 20 years ago and until now, we keep that promise.
From our UK office we deliver every morning five different systems (such as USB see picture), containing different aspect ratios and codec standards. Don't worry if you are confused reading these words, but be assured; we are the specialists in standards, flexibility and delivering on time! Why not try us?
Improving Quality
It is not enough that we are connected through mail and video conferencing, we like to do a lot of things personally. Mahmut Aptul works for iTV in Germany since 2006 and is responsible for many things such as iTV's IT infrastructure. As technology changes rapidly and we are never finished learning, Mahmut travels frequently to the UK for quality improvement, training and problem solving.
Feierlich eröffnet
Die neue 2.800 Meter langen Landebahn Nordwest wurde zum Winterflugplan 2011/2012 am 21.10.2011 in Betrieb genommen. Dadurch sind jetzt auch parallele Landungen auf dem Rhein-Main Airport möglich. Die Flugbewegungen können somit von derzeit 83 auf 126 pro Stunde gesteigert werden. Zukünftig werden knapp 90 Millionen Passagiere jährlich in FRA ankommen, abfliegen oder umsteigen.